Poconos Pennsylvania Newspapers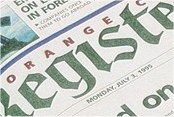 The best way to get the most up to date information on local festivals and events is by picking up a local Poconos Mountains newspaper which cover local events & news. You may also wish to seek online media companies offering information on the Poconos.
The Poconos Record: has an amazing online visitors guide that will help you plan out your days in the Poconos. This Pocono newspaper is complete with golf guide, fishing guide and local entertainment.
Pocono Radio Stations
For music lovers, one of the frustrations of travel is the loss of your favorite tunes. Below is a list to keep you tuned in to your favorite tunes.
Pocono Adult Contemporary Radio Stations

WSBG 93.5 FM
WDNJ 95.3 FM
WLEV 100.7 FM
WHCY 106.3 FM
WKRF 107.9 FM
WMGH 105.5 FM

Pocono Classic Rock Stations
Pocono College Radio Stations
Pocono Country Radio Stations

WRNJ 107.1 FM
WDLC 1490 AM
WPSN 1590 AM

Pocono Easy Listening Stations

WEST 1400 AM
WFMZ 100.7 AM

Pocono Oldies Stations

WGPA 1100 AM
WYNS 1160 AM
WYCY 105.3 FM
WTSX 96.7 FM

Pocono Public Radio Stations
Pocono Adult Nostalgia Stations

WVPO 840 AM 960 AM
WDLC 1490 AM

Pocono Talk Radio Stations